BioShock Builds: Create a faux-neon Plasmids Sign
Not only are we sharing our favorite community DIY projects based off of different games that 2K publishes – we're building some as well!
Let's kick this off with a project that's great for beginners, really easy to build and is a fun way to bring BioShock's Rapture to the walls of your room: A faux-neon Plasmid sign.
You ready?
This project uses string lights called electroluminescent wire, or "El Wire" for short. It comes in a ton of colors and can run off batteries. Best of all, the lights are inexpensive, and dead simple to use.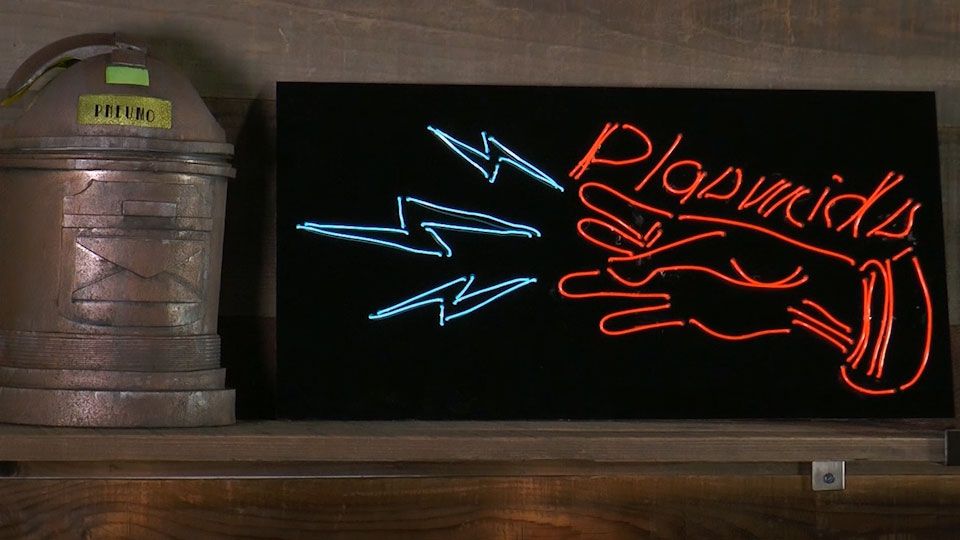 SET UP YOUR BASE
For the sign's base, you'll need some thick foam core, painted wood or what we're using here, a black acrylic sheet.
Print out the Plasmid sign taken directly from the game, and in our case here, size it to fit a 2 foot by 1 foot acrylic sheet. The sheet we got already had protective paper over it, so I just sprayed some glue on the top of the acrylic and pasted the image on top of that.
Head's up that most spray glues need to be applied outside –they've got a strong smell to 'em. Alternatively, painter tape works great, pulls off pretty easily, and doesn't leave a mark behind.
KNOW THE DRILL
Now that we've got the base set, start marking where to drill the holes. You're using those holes to thread the el wire, and also, leave some hints to indicate the direction of the El wire and where to glue. Trust me, you'll want to keep this as a reference to remind you when you start threading.
Best ways to avoid splintering or cracking the acrylic sheet: Use a drill bit made specifically for plastic and make sure to have a piece of sacrificial wood sitting behind the acrylic sheet.
Take your time – don't rush the drill. Lastly, make sure to get a drill bit that is slightly bigger than the El wire you are using. Carefully pull the paper template up, and set it aside. You'll refer back to this constantly during the installation of the lights.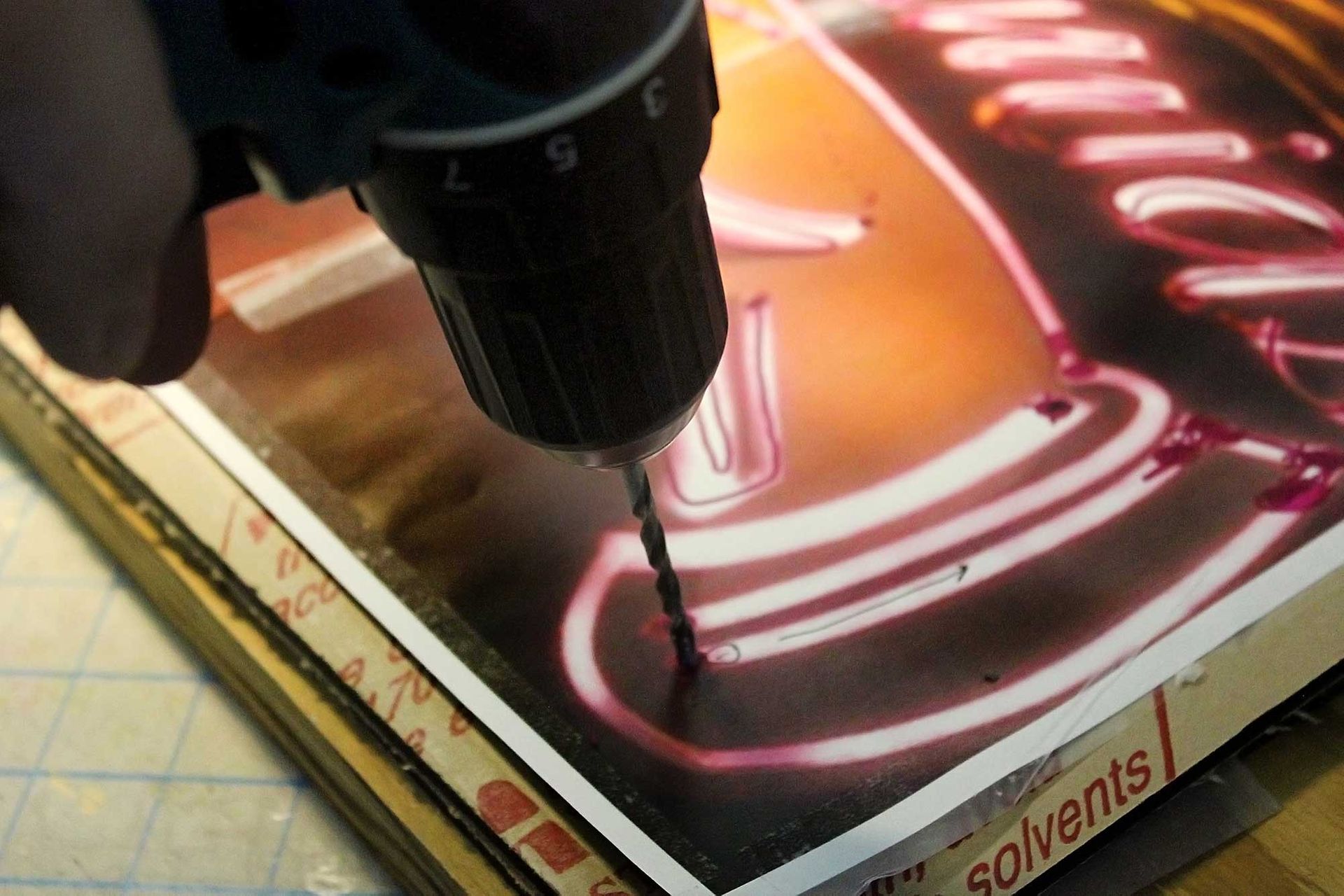 HIT THE LIGHTS
I started threading the lightning bolts first, mostly to get used to working with the lights. I started by using scotch tape to hold down the lights where I wanted to glue, but it was really hard to pull off the acrylic. Painters tape really works the best for this.
Use tape to form basic curves, where you'll come back and glue later. Make sure you pull out and leave enough El wire to make a curve. Right now, it still won't look like much, but you'll be getting the forms finalized at the gluing stage.
Tape up any excess wire and the battery pack on the back with strong duct tape to secure it.
With the blue lightning in a good place, let's move on to the letters and hands. This is where you need to eyeball your template, because all these holes are confusing to remember with no reference. For the thicker lines, I doubled back the el wire, to create more weighted lines. Once all the lights are threaded, onto the gluing.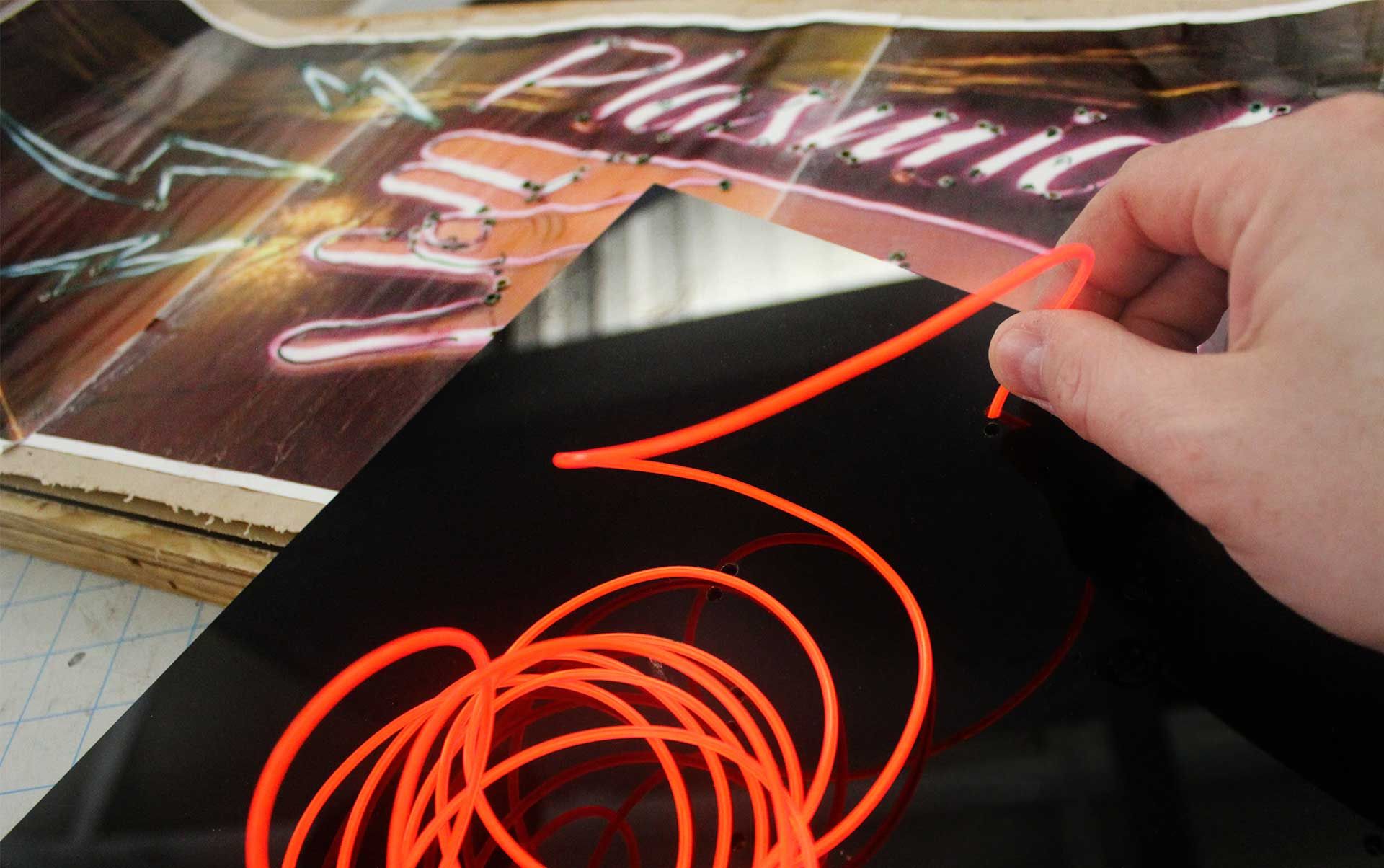 STICKING IT TOGETHER
This part you want to take your time with, because every little drop of glue really shows up on shiny black acrylic. You can use super glue, or a good flexible glue that dries clear. Just a drop will suffice, but I use tape to keep the light in the proper place when drying. Just be careful not to glue any of the tape to the acrylic.
This is where the letter forms really start to take shape. After about an hour, the glue hardens enough that I can take off the tape. I clean up some parts, add a spot of glue to any parts that I want to refine, and bam, done!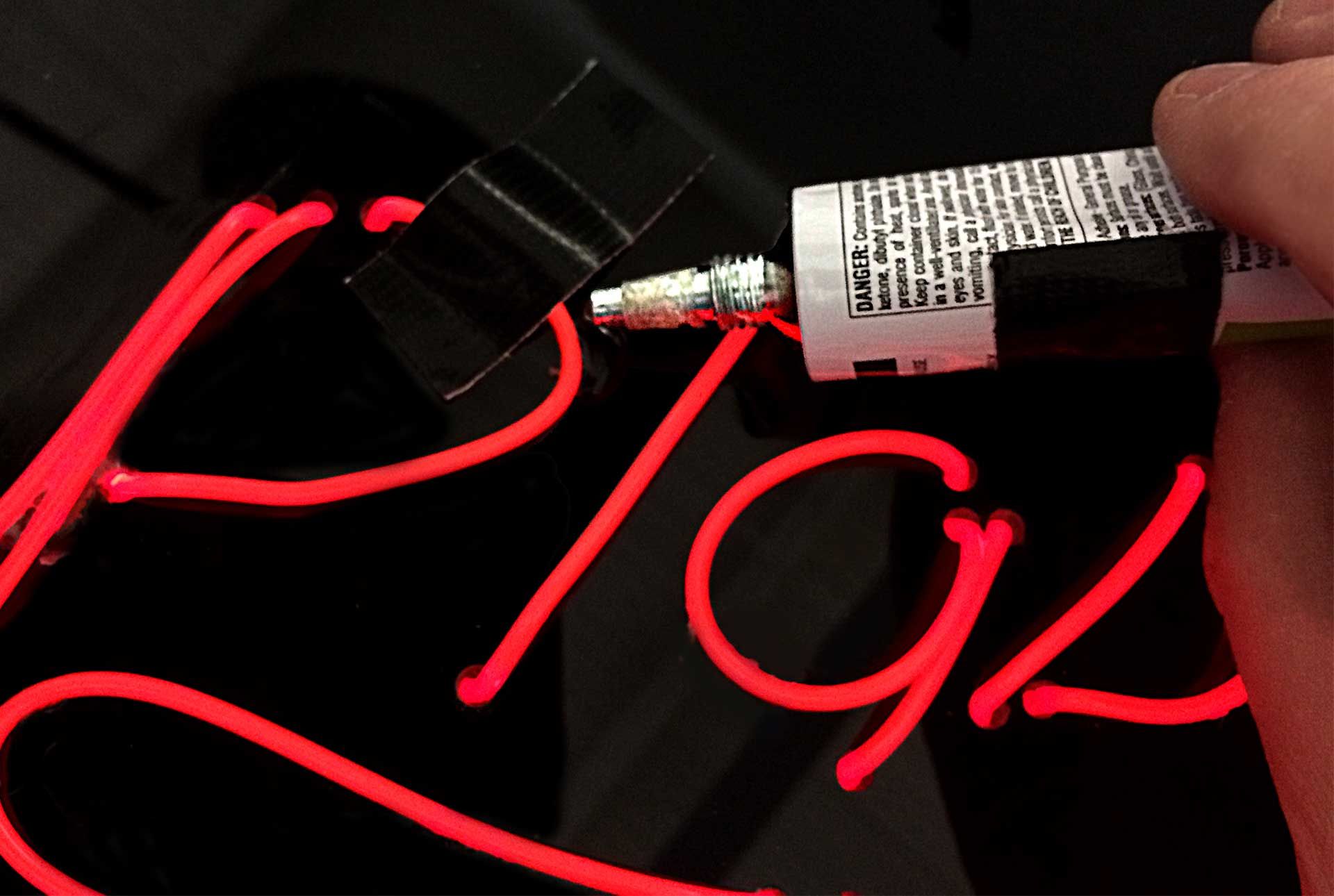 THE CLEANUP
Clean off any excess glue, dust and lint that has collected on the sign, and light 'er up!
Most El wire has different modes for blinking, so you can try matching the blinking pattern from the in-game sign. And best of all, having batteries allows you to hang your sign anywhere. With a couple AA batteries, the El wire sign should run for a couple days. If you want a more permanent setup, buy el wire that has an outlet adapter.
Hope this inspires you to make your own. If you decide to build this, share it with us, and show us how you made yours better!
Happy making!