Chinese New Year Packs and Boxes Now Available in MyTEAM
MyTEAM has a ton of content going out this week centered around the Chinese New Year! Starting January 27, in addition to the normal Weekly Challenges to gain a Challenge Token, MyTEAM users will have the opportunity to earn a Ruby Reward Chinese New Year Jeremy Lin card in a special Moments Challenge replicating his fantastic run of play that became known worldwide as "Linsanity." If you can defeat the Mavericks on Superstar difficulty and get 20 assists as a team, you will earn a great point guard for your team.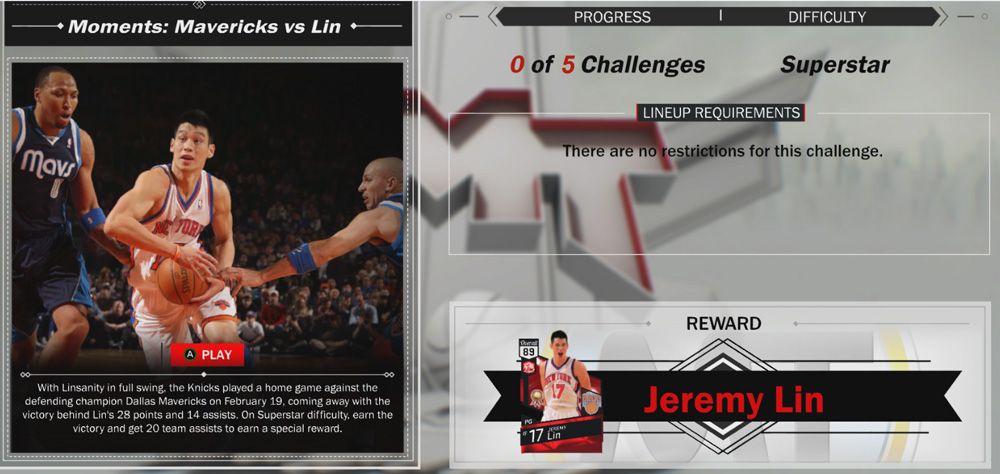 Lin has a total of 18 badges, including Pick and Roll Maestro and Deep-Range Deadeye, and highlighted individual stats include 90 Speed With Ball, 95 Offensive Consistency, 84 Open Shot Three, and 88 Open Shot Mid-Range. Lin will make a great addition to any team, especially those that enjoy an up-tempo offense and score often at the point guard position. Remember, this is the hardest of the five new Moments Challenges, so earn some MT and practice with your team on the others before facing off for Lin. These challenges are available until Friday, February 3, so don't miss an opportunity to get one of the best Ruby point guards in the game.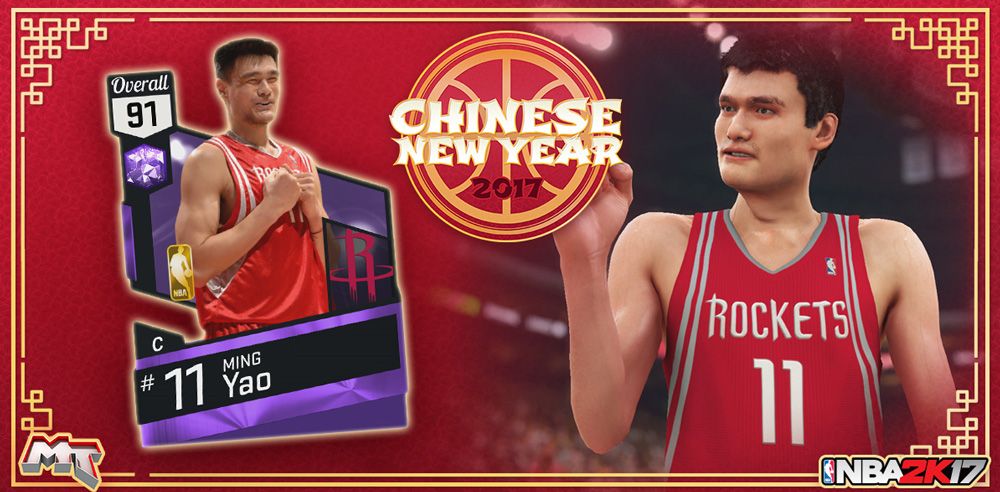 Chinese New Year packs and boxes are also available for a limited time with a chance to pull Amethyst Event Chinese New Year Yao Ming. Yao is a highly-anticipated card every year in MyTEAM, and his combination of size and skill are nearly unmatched. Yao has 9 badges that match his play style, including Putback King, Pick and Roller, Bruiser, and Brick Wall. Highlight stats for Yao include 90 Standing Dunk, 88 Offensive and 90 Defensive Rebound, 98 Offensive Consistency, and 96 Shot Close. Keeping Yao close to the basket on both offense and defense is ideal, but he does have the ability to hit the mid-range jumper to surprise your opponents as well. Combining Yao with Ruby Jeremy Lin in the pick and roll will prove lethal on offense.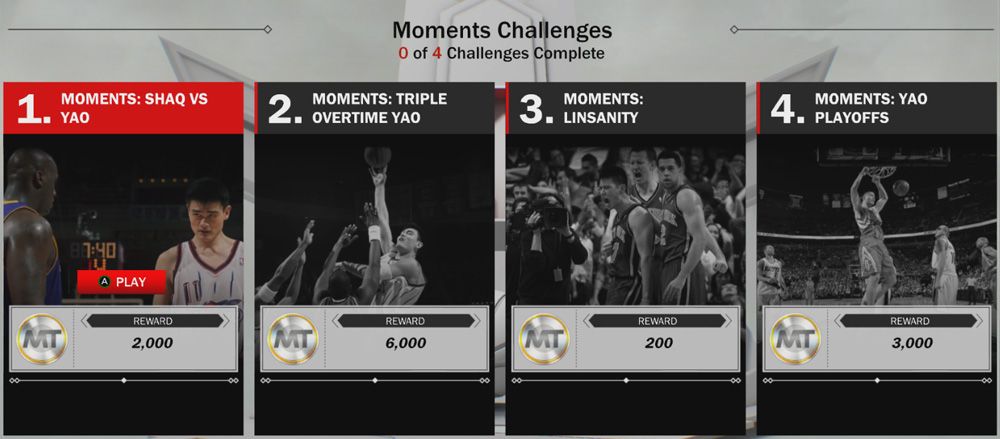 Finally, four additional new Chinese New Year Moments Challenges are available. These challenges highlight some of Lin and Yao's career-defining moments and give you an opportunity to earn MT towards upgrading your team. Included are Moments: Linsanity, Moments: Triple Overtime Yao, Moments: Shaq vs. Yao, and Moments: Yao Playoffs in addition to the Moments: Mavericks vs. Lin challenge.
There's a ton to do in MyTEAM, and some great opportunities to build up your lineup and take on the world in MyTEAM Online. And don't forget—All-Star Weekend is right around the corner…
Follow @NBA2K_MyTEAM for more news and updates on the world of MyTEAM in NBA 2K17.