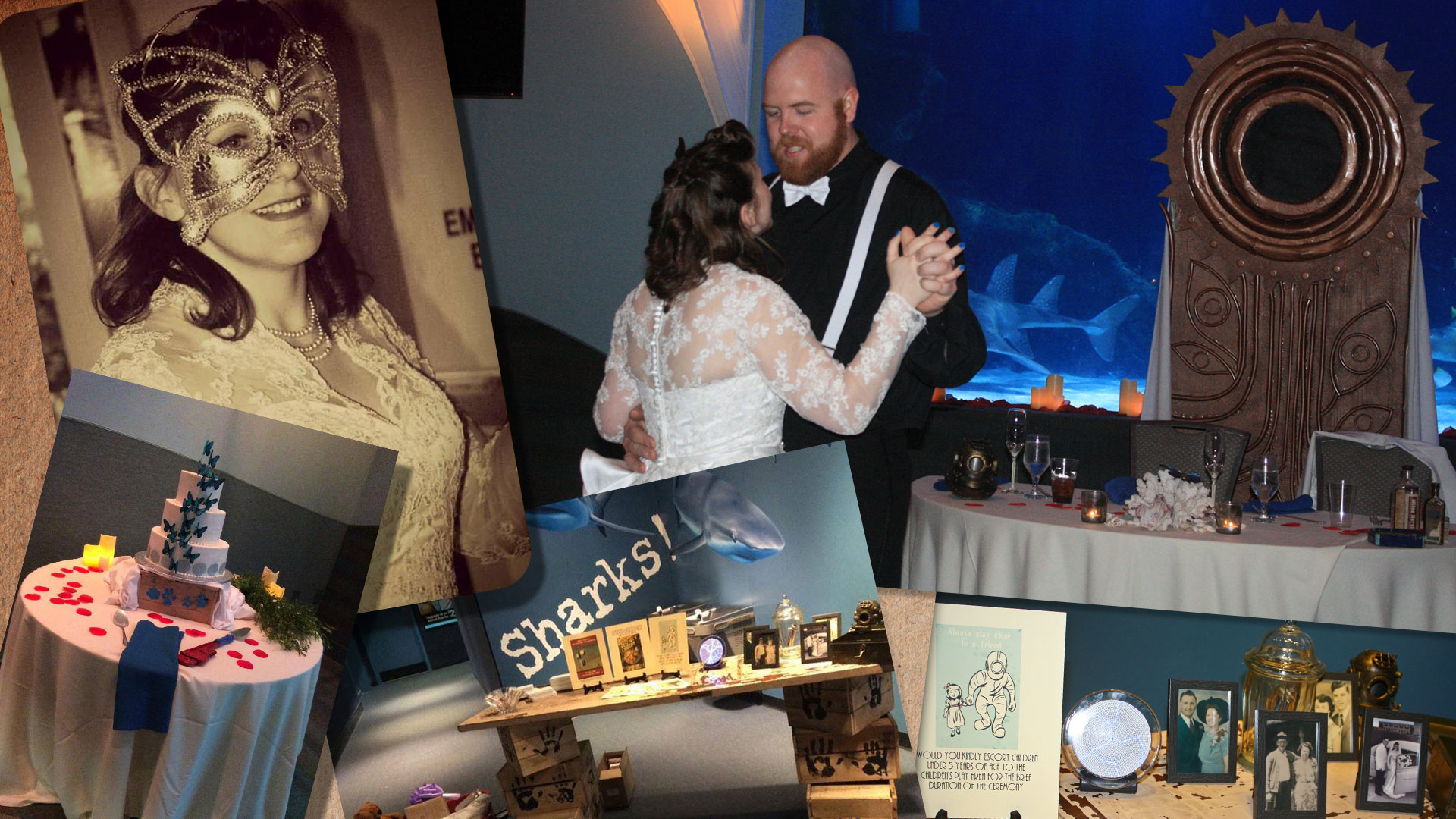 You could say that Zac and Jessica Johnson are BioShock fans. It could be their fully tricked-out BioShock-themed wedding that'd tip you off. It was decked out with air venting suitable for Little Sisters in attendance, a lighthouse…and the fact that the ceremony was in an aquarium.
We were so impressed by their wedding, we just had to chat with this awesome couple.
How does gaming - and BioShock - factor into your relationship? Were you both long-time gamers?
Jessica: I was never much of a player myself. I'm more of an NES girl. I grew up watching my brother play, though, and then it took off with Zac. To me, it's like watching a movie, but you're in control of the outcome.
Zac: It's kinda the perfect match up. I always played games and she enjoyed watching them.
Jessica: So, not long after we started dating, Zac suggested we play BioShock, because he knew I am super into that 30s-40s Deco feel.
This is pretty much the definition of Co-Op. Tell us a little bit about that your first trip together to Rapture.
Zac: It has a great replay value so I thought it would be fun for us
Jessica: I heard La Mer while descending down in the bathysphere and it was all over.
The scenery, the story, everything about it drew me in.
Yeah, I think the coolest thing is how the city, cut off from the rest of the world, developed at its own weird rate of evolution. Even though it was technically in the 60's, it still is stuck 30 years prior.
Zac: The sheer amount of detail really holds you
Tell us a little about how the wedding came about. Who's Idea it was it in the first place? Why choose BioShock as the theme?
Zac: Honestly, it started as a joke
Jessica: I was just sitting around one day and, mostly jokingly, said "Hey, if we ever get married, we should do a BioShock wedding." It just was such an obsession by that time, and I didn't think it would be feasible. How could somebody take a video game full of gore and disfigurement and violence and turn it into something beautiful?
But we saw that there were several aquariums who offered themselves up as wedding venues, and it took off from there.
We thought, maybe we could focus it on pre-1959, combined with sort of the vision of how the little sisters view things as shown in BioShock 2.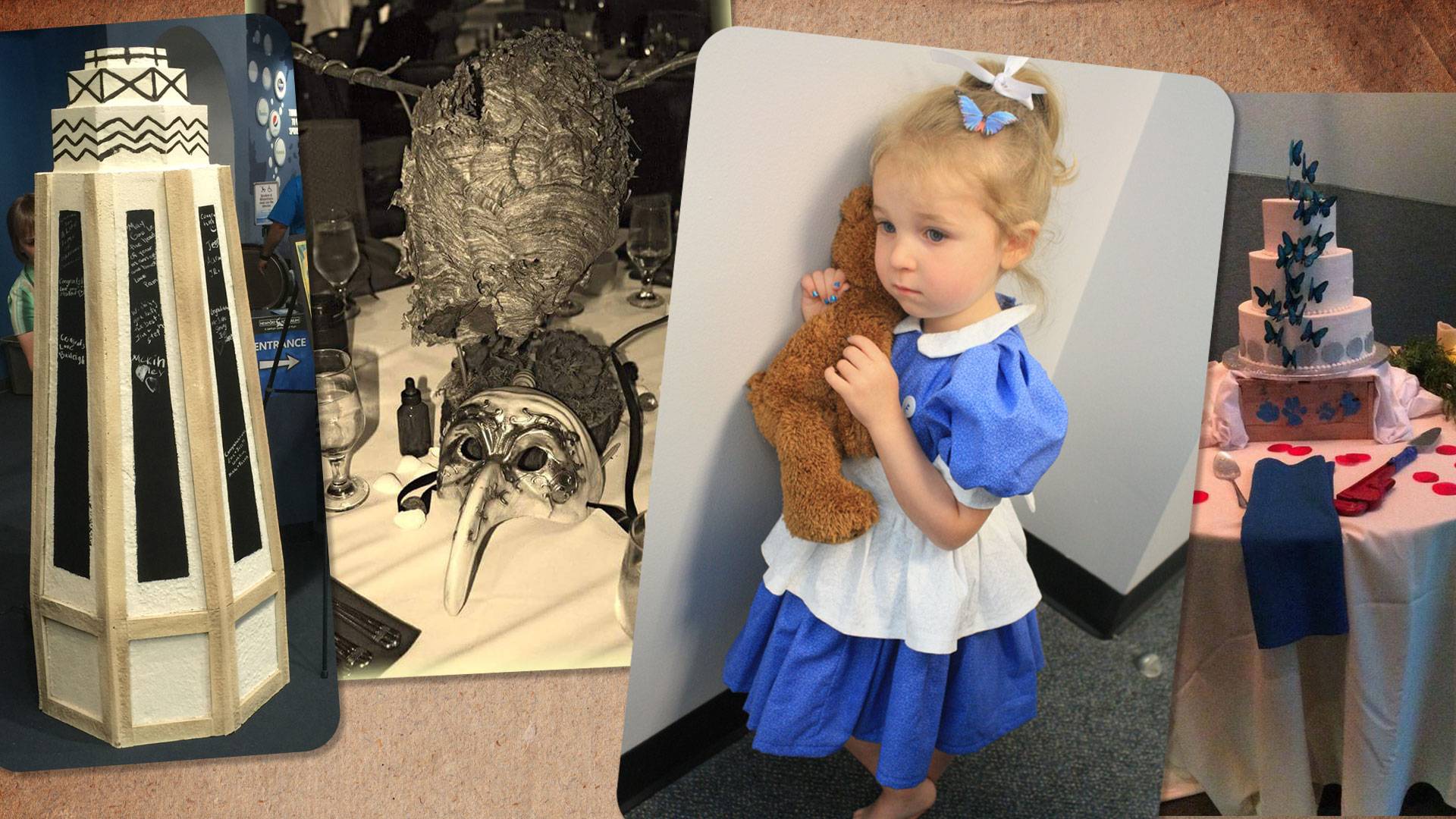 That's definitely a great way to look at it. So, what was the reaction when you explained what you wanted to do?
Jessica: Once we told the wedding planner the idea, she was a little confused, but her assistant and some of the other staff were familiar with the game and thought it was fantastic.
…and your family?
Jessica: Most of my family weren't familiar with the games, but it had enough of a general vintage feel to appeal to all.
Most of them didn't really know what to expect, but they loved how it turned out. For instance, we built the "smugglers crates" for the gift table and used both our handprints together.
Even the air vent – which I actually built by myself – might not've had any Little Sisters inside it, but we did use that vent as our altar.
How did you build that vent, anyhow?
For the vent, I found a picture online and using a projector, I traced the design onto foam board. It was actually a really quick and easy way to do it.
But it was more than just than just the air vent, you also added some other touches...
Jessica: Zac built the lighthouse for the entryway. The lighthouse was set just before the elevator down to the tunnels and the main room, and it had chalkboard paint to double as our guest book.
He built me a frame to make it stand and for the bottom ledge to hold candles. The designs were about 10 lbs of glue, plastic tubing, some buttons, a little Paper Mache over wreath forms for the hole and many hours of sweat, glue burns…and a few tears.
Did you lean into the music genre from the game as well for the wedding?
Jessica: The entire soundtrack was from or inspired by the game. Zac and his men entered to "Pairbond." My "Little Sisters", maids and I entered to "La Mer," and we left to "Rise, Rapture, Rise."
Our first dance was "Beyond the Sea." Of course, it kinda HAD to be that. The four CD wedding soundtrack have permanent residence in my car CD changer.
Were there any other things you wish you were able to pull off, but couldn't?
Other ideas that didn't make it were signature cocktails of Adam and Eve, the red/gold banners and we wanted to scatter candy cigarettes and potato chips all around the venue.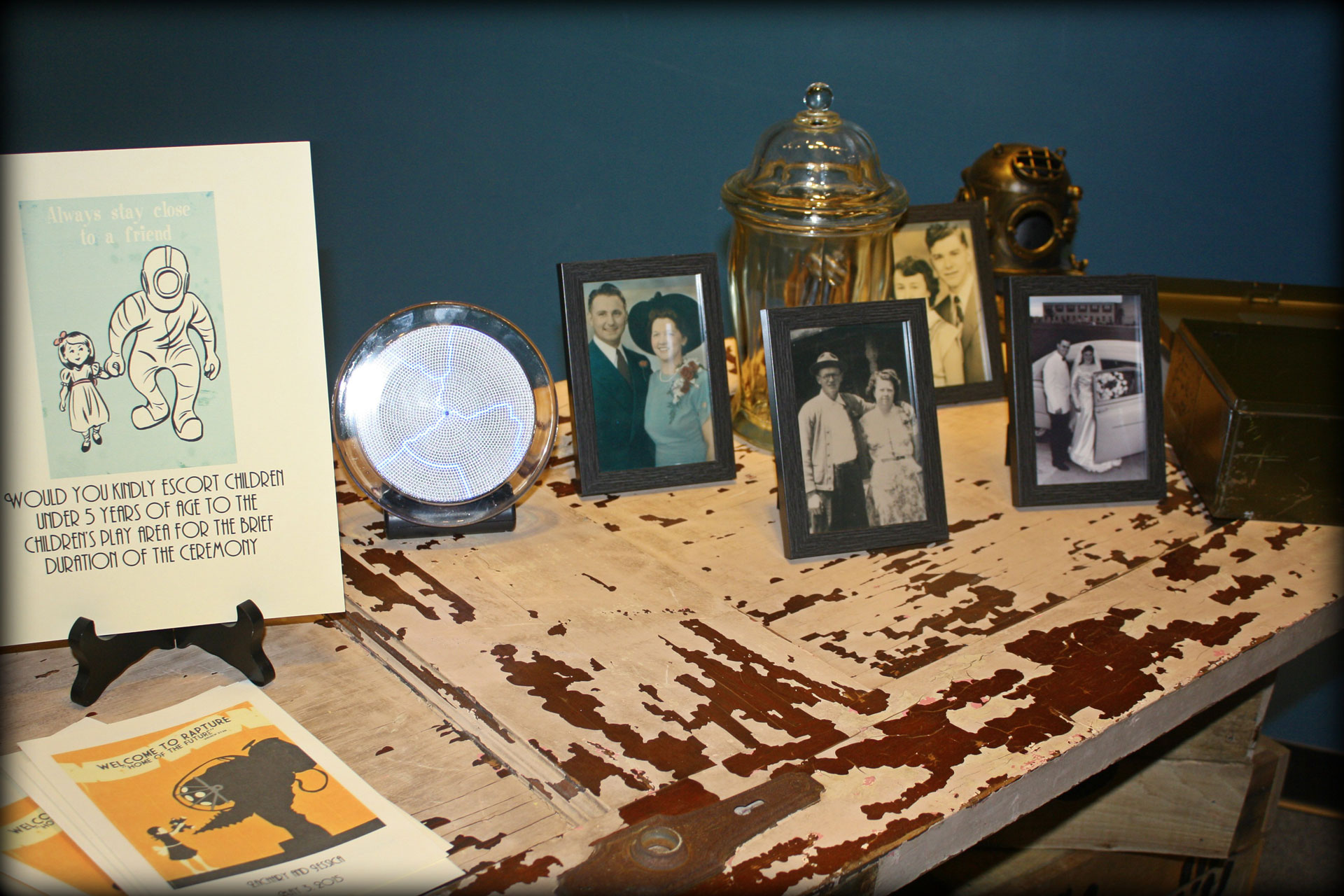 Makes sense – you never know when you need a quick boost of health or ADAM. So, what's next for you two?
Jessica: Well, Zac and I are having a baby. I'm already indoctrinating the little one with the soundtrack. I've always loved Bing Crosby, Bobby Darrin, the Andrews Sisters…and combining that with the soothing sounds of Eleanor's Lullaby and How She Sees the World is perfect for raising a well-rounded child. We also would like to have a dog named Mr. Bubbles someday, but right now we have our hands full with the ones we already have.
That's great news – congrats! Any additional BioShock plans for the house?
Well, there are surprisingly few BioShock-themed nursery accessories – but we're working on that. Otherwise, Zac has actually talked about putting "hidey holes" into the walls of the house for our cats to go through.
So long as they aren't Little Sister-sized, you're definitely onto something. Anything you'd like to say to the teams here that worked on the games?
Jessica: Thank you for everything. I know it's "just a game" but it has stretched its Adam-filled tentacles into every bit of us. To fellow fans, well, obviously they are all very intelligent people. Don't be afraid to do something like we did because of what others might think. Even on a very limited budget, we followed our slightly off-kilter dream and created what I think turned out to be a masterpiece.
Zac: Thank you so much for pouring your heart and souls into this game, it was an amazing experience to play through.
No, guys, thank you for being fans.